This one seems to be coming up more and more all the time.  My hope is that everyone has heard of this and would not fall for the scam being perpetrated here.  This one was a bit unique as it came under a text message, using my name, asking people to "do a favor" for the church.
For the record, priests don't EVER ask for gift cards in the event of an "emergency". I carry credit cards which have credit limits plenty sufficient to cover any personal or professional emergency which might come up.
Please report scammers to the phone company or the local police. Seriously. The quicker we can get a scammer shut down, the quicker we can save other, more vulnerable folks from potential losses.
The Quincy Police Department issued a press release on this scam just last night: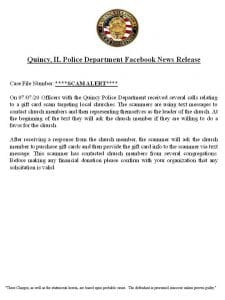 BUT, If you do need to buy gift cards for any other reason, contact the
Gene Grawe Fund
at St. Peter's. The would be happy to fulfill any legitimate order for gift cards there might be out there… and our school gets a kickback.  They will also help assure you that, indeed, any requests in the name of a Catholic priest is a SCAM.
If you want to see a guy who roasts phone scammers (and in turn, see some of the extremes to which these scammers attempt callously steal from the elderly), check out "
Kitboga
" on YouTube. This man is amazing. Parental guidance is advised for strong language.