Rollie E. Thomas, Sr.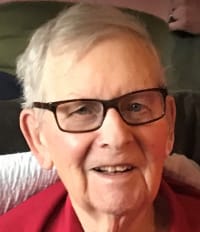 Rollie E. Thomas, Sr. age 88, of Quincy died on Thursday, July 2, 2020 at 9:10 p.m. in his home. Rollie was born in St. Louis, MO on November 1, 1931, a son of Rollie H. and Frances (Burns) Thomas. He married Dolores "Dee" E. Greving on February 5, 1955. The couple celebrated their 65th wedding anniversary earlier this year.
Rollie went to work at Gardner-Denver right out of college, and he worked there for 30 years. For the rest of his working career, he was a Financial Services Representative for Met Life. He graduated from St. Mary High School in St. Louis, MO where he played basketball and baseball. He was a graduate of Quincy College. Rollie played baseball throughout his four years in college, which culminated in his signing a contract to play for the N.Y. Giants organization on a minor league team based in St. Cloud, MN.
Rollie was then called to enlist in the U.S. Army. He served stateside in special services and was fortunate to have played both of his favorite sports and coaching while he was in the service.
He and his family were longtime members of St. Dominic Catholic Church where Rollie was in the Men's Society; he is a current member of St. Anthony of Padua Catholic Church. He was a member of the Mart Heinen Club. For years, Rollie participated in numerous sporting-related functions, and he was a huge fan and supporter of his children's activities—especially soccer. He was a wonderful storyteller and loved his trips to Lake Ada in Northern Minnesota.
In addition to his wife Dee, survivors include his seven children: Terri (Phil) Schonhoff of Ellettsville, IN; Rollie (Connie) Thomas of Quincy; Vicki (J.R.) Decker of North Ft. Myers, FL: Jim (Kris) Thomas of Fowler, IL: Tim (Jane) Thomas of New Berlin, IL: Mark (Christe) Thomas of Quincy; and Lori (Pete) Khazen of St. Louis, MO;
Grandchildren, Matt and his wife Katie; Stephanie and her husband Drew; Michael and his wife Kelly; Ashley and her husband Gerald; Kristen and her fiancé Jamie; Carolyn and her husband Chad; Stephanie; Ally and her fiancé Zach; Jake; Jennifer and her husband Garrison; Nick and his wife Sarah; Jessie and her husband Adam; Eric and his wife Kayla; Erin and her husband Dustin; Hannah; Dillon and his wife Melissa; Devin, Drew, Logan, Alena, Sierra; Kellen, Emary, Gabriel, Christian, Tate and Quinn.
17 Great-grandchildren; one sister, Marcella Humphrey of Quincy; A sister-in-law, Joyce Sheets of Jacksonville, IL; Nieces and nephews survive, including his niece and goddaughter, Liz Thomas of Manchester, MA.
He was preceded in death by his parents, a daughter, Antonia Marie in infancy and a brother, Lee Thomas. Rollie's family extends their sincere gratitude to Blessing Hospice for their care and compassion.
Funeral services will be held on Wednesday, July 8, 2020 at 9:15 a.m. in the Duker & Haugh Funeral Home and a Mass of Christian Burial at 10:00 a.m. in St. Anthony of Padua Catholic Church. Interment will be in Calvary Cemetery with military honors conducted by American Legion Post #37 and the Illinois National Guard Honors Detail. Visitation will be Tuesday from 4:00 to 6:00 p.m. at St. Anthony of Padua Catholic Church. Memorials are suggested to the Quincy University Soccer Program, Quincy Notre Dame, or the Donor's Choice. Service arrangements are with the Duker & Haugh Funeral Home.
Information provided by the Duker & Haugh Funeral Home.