Raymo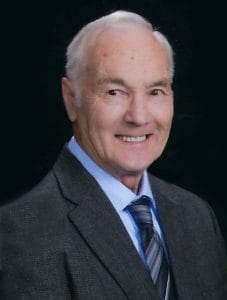 nd A. Stupavsky, age 86, of Quincy, died on Wednesday, September 23, 2020 at 1:55 p.m. in Good Samaritan Home, with his loving wife of 63 years at his side.
Raymond was born November 11, 1933 in Quincy, Illinois, the son of Leo and Isabel Ehrhardt Stupavsky. He married Gertrude L. Newberry on June 22, 1957 in Quincy. She survives.
Raymond was in the United States Army from 1956-1958. He worked for Electric Wheel for 30 years, for E.L. Smith and Sons for 23 years, and for Titan Wheel for nine years. He was a member of St. Anthony Catholic Church, and of the Holy Name Society. Raymond enjoyed bowling, and he was an avid Cardinal fan. Most of all, Raymond loved spending time with his family and grandkids.
In addition to his wife, Raymond is survived by ten children: Jane (Dan) Howard of Springfield, IL; Anthony (Heidi) Stupavsky of Roaring Springs, TX; Sara (Dan) Terstriep of Liberty, IL; Thomas (Cindy) Stupavsky of Quincy; Ann (Jeff) Wilson, Mary (Chuck) Edwards, Andrew (Kim) Stupavsky all of Quincy; Michelle (Rob) Stull of Fowler, IL; Dan Stupavsky, and Chad Stupavsky both of Quincy; 22 grandchildren: Lexi (Raymond) Moore of Pittsfield, IL; Chance Howard, Kacey (Brock) Kinderday; Colton Howard, all of Springfield, IL; Ben Stupavsky of Roaring Springs, TX; Kyle (Heather) Terstriep, Brian Terstriep, both of Liberty, IL; Allison (Austin) Menz; Adam, Emily, and Michael Stupavsky; Bo (Kelsey), Shawn, Michelle, and Jennifer Wilson, Lauren, Sydney, Kylie, Andrea, and Joshua Stupavsky, all of Quincy; Noah Stull of Fowler, IL; and Tyler (Amanda) Dell, of Clinton, IA; 22 great grandchildren; one great great grandchild; and a brother, Norman (Anne) Stupavsky of Quincy.
Raymond was preceded in death by his parents; a sister, Philomena Hilgenbrink; a brother, Roger Stupavsky; a brother-in-law, Lester Hilgenbrink; and a sister-in-law, Vicky Stupavsky.
Mass of Christian Burial: a private Mass will be held at St. Anthony of Padua Catholic Church, with Fr. Tom Donovan officiating. To attend Raymond's service remotely (or to view a recording for up to 90 days), please join us on Tuesday, September 29, 2020 at 10:00 a.m. Central Time using the following link: https://client.tribucast.com/tcid/80775886
Burial: St. Anthony of Padua Church Cemetery, Quincy, Illinois
Visitation: 3:00 – 7:00 p.m. on Monday, September 28, 2020 St. Anthony of Padua Church. Please bring a face mask if you plan to attend the visitation.
Memorials: Diabetes Association or St. Anthony of Padua Catholic Church
www.hansenspear.com

Hansen-Spear Funeral Directors are in charge of the arrangements.