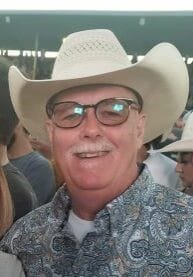 Mark H. Wellman, age 64, of Fowler, died on Saturday, June 24, 2023 in Barnes Hospital in St. Louis. He was born on March 20, 1959 in Quincy. He was a graduate of Quincy High School and received his Bachelors Degree in Animal Science from the University of Illinois. Mark married Cindy Weiman on June 4, 1983. She survives. He was a member of St. Anthony Catholic Church. Mark worked in animal nutrition throughout the Midwest.
Mark was very passionate about the livestock community and devoted his professional life to bettering the beef cattle industry. He was involved in research, development, and promoting quality nutrition products that served a variety of areas throughout the Midwest. In his personal time, Mark enjoyed listening to music, especially Red Dirt Country. He loved finding new artists and sharing their music with his family and friends. Mark's biggest passion was his family. He devoted as much time as possible to cheering on his children and grandchildren in the show ring, at all of their sports, dance recitals, and other events big and small.
In addition to his wife Cindy, Mark is also survived by:
HIS MOTHER: Virginia Alger Wellman of Quincy
HIS CHILDREN: Tyler Wellman (Emily) of Fowler; Zach Wellman (Megan) of Mendon, Bethany Hoffman of Fowler and Abbie Herman (Spencer) also of Mendon.
GRANDCHILDREN: Mark, Jake and Thia Wellman; Wade, Levi and Adelyn Wellman; and Lincoln and Isaiah Hoffman.
ONE SISTER: Gina Myers (Dennis)
Numerous nieces, nephews and other relatives also survive.
Mark was preceded in death by his father Howard Wellman and a brother Greg Wellman.
Funeral services will be held on Thursday, June 29, 2023 at 9:45 at the Duker & Haugh Funeral Home and a Mass of Christian Burial at 10:30 at St. Anthony Catholic Church. Interment in Ellington Memorial Presbyterian Cemetery. Visitation will be held on Wednesday evening from 4:00 until 7:00 PM at St. Anthony Catholic Church. Memorials may be made to Oncology Patient Assistance Fund/Quincy Medical Group Foundation or St. Anthony of Padua Church. The Duker & Haugh Funeral Home is in charge of arrangements. www.dukerandhaugh.com