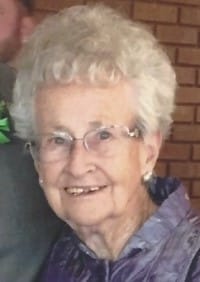 Marjorie C. 'Margie' Benz, age 91, of Quincy, died on Friday, April 2, 2021 in her home. She was born on April 6, 1929 in Quincy, the daughter of Henry and Olivia (Maas) Ehrhardt. She married Albert 'Ab' Benz on December 1, 1956. He preceded her in death on July 1, 2011.
She graduated from St. Anthony School in 1943. She was a 4-H Leader of Burton. She was also a member of the Melrose Victory 4-H. For many years, Margie exhibited her needlework, canned fruits and vegetables at the Mendon Fair. She was the President of the St. Anthony Altar Society for 4 years and was chairman of the card parties. She and her husband loved to cook the potatoes and eggs for the fish fries. Before marriage, Margie worked at Motorola for 7 years. After marriage, she helped Ab milk cows, feed chickens and bale hay. She enjoyed doing needlework and made a quilt for each one of her grandchildren. She belonged to the WCU and the Secular Franciscans. She and her husband were both RSVP members and delivered Meals on Wheels for over 35 years. She got her 20 gallon pin for the amount of blood she has donated in 2012. She and Ab were both Communion Ministers at St. Anthony Catholic Church and Blessing Hospital. Margie also volunteered at the hospitality house and the adoration chapel. Margie was a recipient of the Catholic Woman of Distinction Award for the Diocese of Springfield.
Margie's greatest love was her husband Ab and she loved traveling with him spending time with her children and grandchildren. She enjoyed family, friends, travel, dinners, Knights of Columbus events, bowling, golf and cards, especially euchre. The family farm had 3 ponds for fishing at and numerous hills to sleigh ride on with grandchildren.
Margie is survived by:
TWO CHILDREN: Charlie Benz and his wife Christi of Shawnee, KS and Geri Black and her husband Trenton of Quincy.
SIX GRANDCHILDREN: Samantha Benz, Jessica Benz, Max Benz, Alexandra Benz, Kris Weaver and Zach (Ally) Weaver.
ONE BROTHER-IN-LAW: Brother Earl Benz, OFM.
Numerous nieces, nephews and other relatives also survive.
In addition to her husband, Margie was also preceded in death by her parents and 5 siblings: Bob Ehrhardt, Paul Ehrhardt, Evelyn Grawe along with her husband Richard, Esther Sherman along with her husband Russell, and Dee Siebers along with her husband John.
Funeral services will be held on Friday, April 9, 2021 at 10:00 AM at St. Anthony Catholic Church. Interment will be in St. Anthony Cemetery. Visitation will be held on Thursday evening at St. Anthony Catholic Church from 4:00 until 7:00 PM. Memorials may be made to St. Anthony Catholic Church or to the local Meals on Wheels Program.