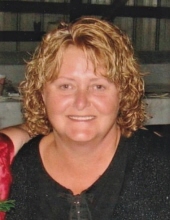 Lisa K. Sorrill, 60, of Quincy, IL, passed away peacefully Thursday, December 10, 2020, at Blessing Hospital in Quincy.
She was born December 15, 1959, in Quincy, a daughter of Clair and Mildred LaTour.
Lisa loved spending time with her dog Lux and her grand pups, being outdoors, thrift shopping, and talking to family and friends. She was also infatuated with lilacs and Thomas Kinkade's art.
Survivors include her children, Nathaniel Sorrill, Sara Sorrill, and Nicholas (Briana Graham) Sorrill, all of Quincy, and Skyler Sorrill of Blue Springs, MO; two sisters, Kathy (Kenny) Peters of Liberty, and Cheryl Lish of Quincy; and two brothers, John (Linda) LaTour and Larry LaTour, all of Quincy. Many nieces, nephews, aunts, uncles, and cousins also survive.
She is preceded in death by her ex-husband, parents, a sister, Fran Platt, and her dog, Lux.
Her children have chosen a private burial provided by O'Donnell-Cookson Life Celebration Home in Quincy.
Memorial contributions may be made to the Quincy Humane Society or the Quincy Serenity Club.