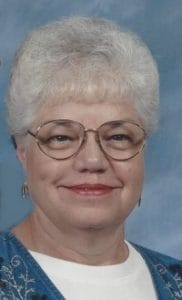 Catherine "Kay" L. Ortbals age 79, of Quincy died on Saturday, August 15, 2020 at 3:20 a.m. in her home. Kay was born in St. Louis, MO on May 12, 1941, the youngest daughter of Oliver and Rose (Greten) Wienstroer. She married Edgar Stephen "Ed" Ortbals on May 27, 1961 in St. Agnes Catholic Church, St. Louis. He preceded her in death on October 30, 2019.
Kay was a graduate of St. Mark High School in St. Louis. She was a homemaker, and for many years worked as a cashier at the former A&P and Randall's grocery stores. She also had worked at Barrell's and Bins at the Quincy Mall and was known as "Miss Kay" when she was a lunch lady for the Quincy Public Schools.
She was a member of St. Anthony Catholic Church. Kay was incredibly proud of her family and loved spending time with her grandchildren. She was an accomplished women's bowler who always looked forward to league night with her friends. Kay enjoyed dancing as one of the "Bootkickers" and she was an avid St. Louis Cardinal fan.
Survivors include her children: Karen (Barry) Nichols of Columbia, MO; Mike (Lisa) Ortbals of Columbia, MO; Mark Ortbals of Quincy; and Teresa (Mike) Ellis of Quincy.
Grandchildren: Kasey, Zach and Danni Nichols all of Columbia, MO; Katie (Aaron) Mills of Columbia, MO; Claire (Pete) Stansberry of Columbia, MO; Nathan Ortbals of Columbia, MO; and Matthew Ellis of Quincy; and one great-grandson, Oliver Mills.  Nieces and nephews also survive.
Kay was preceded in death by her parents, her husband, a sister Rosemary (John) Mense and a brother, Tom Wienstroer.
The Ortbals family extends their gratitude to everyone at Good Samaritan Home and Blessing Hospice for their kindness and the care that Kay received.
A Mass of Christian Burial will be held on Saturday, August 22, 2020 at 11:30 a.m.in St. Anthony of Padua Catholic Church by Rev. Tom Donovan. Private interment will be in Calvary Cemetery. Visitation will be Saturday from 9:30 a.m.to 11:30 a.m. at the church. Memorials are suggested to St. Anthony of Padua Catholic Church or to Blessing Foundation for HOSPICE.