On Wednesday, December 15, 2021, Jacob Lee 'Jake' Messmer, loving husband, father of five, and grandfather of seven, passed away at the age of 64.
Jake was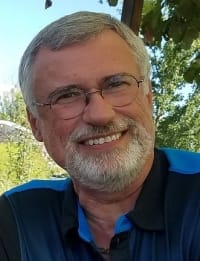 born on February 10, 1957, in St Louis, MO to Jacob Adam & Hattie (Britt) Messmer. He retired in 2017 after being a long-time employee of Aramark. Through his time at Aramark, he loved building relationships with his clients. On May 6, 2017, he married Nadine (Frericks) O'Brien.
Jake had a passion for family, community and relationships. Jake was a beloved community member of St. Anthony Catholic Church. He was also a member of the Kinghts of Columbus. Those that were close to him know his affection for his grandchildren and his exuberance when playing with them. A long time ago, in a galaxy far, far away, Jake developed a love for anything Star Wars, which he discussed with fellow fans any chance he could. He also enjoyed fine arts; he spent hours working at his art station crafting challenging mazes for others to complete. Jake used everything he was passionate about as a way to include others: family, church, movies, video games, art, and more was his way to love, include, and care for his people.
"When gone am I, the last of the Jedi will you be. The Force runs strong in your family. Pass on what you have learned." – Yoda.
Jake was preceded in death by his father, Jacob Adam Messmer.
He is survived by his wife Nadine, mother Hattie, sister Joyce, brother David, sister-in-law Shannon, his children: Jacob Conrad 'Jake' Messmer, Sydney (Allen) Banks, Amanda (Jerry) Menke, Katie O'Brien and Nick O'Brien, and his grandchildren: Cara Koch Stathem and Ethan Messmer, Makinze, Tatum, and Zekaius Menke, Nadia O'Brien, and Baby Banks expected in February. Numerous nieces, nephews, cousins and other relatives also survive.
A mass of Christian Burial will be held on Tuesday, December 21, 2021, at St. Anthony Catholic Church at 12:30 PM. Interment in St. Anthony Cemetery. Visitation will be held on Monday, December 20, 2021, at St. Anthony Catholic Church from 4:00 until 7:00 PM. Memorials may be made to St. Anthony Catholic Church or to Children's Cancer Research Fund. The Duker & Haugh Funeral Home is in charge of the arrangements.