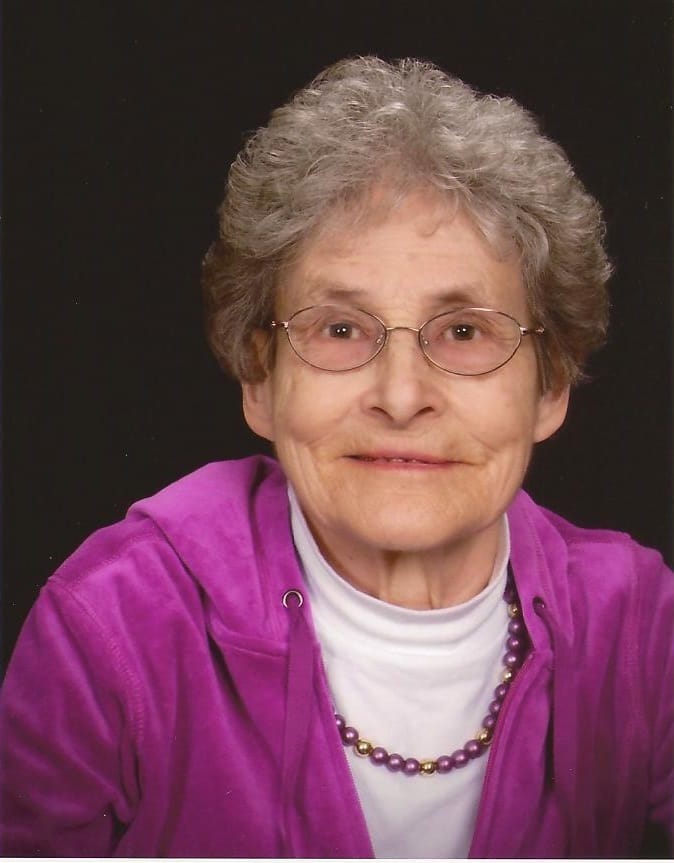 Barbara Jean (Benz) Boone
Barbara Jean (Benz) Boone, 86 years old, formerly of rural Plainville, Illinois died Friday, July 1, 2022, at 3:34am in Barry Community Care Center.
Barbara was born October 24, 1935, in Adams County, a daughter of George and Frances (Bockhold) Benz.  She married Marvin Leo Boone on January 30, 1954, in Quincy.  He preceded her in death on June 18, 2010.
Mrs. Boone was a lifelong member of St. Anthony Catholic Church.  She was active in the Ladies Altar Society and quilting group.  She farmed alongside of her husband and continued the farming operation after his death. She enjoyed many large family reunions and was active in a genealogy group in which she charted much history of the family tree.  Barbara was also a part of a pinochle group over 50 years with lifelong friends.  She was a homemaker who liked gardening, daily walking, sewing and quilting.  She made a quilt for each of her nine children and 19 grandchildren.
Survivors include nine children, Joe Boone (Mary Ann) of Holts Summit, Missouri; Tony Boone (Frances) of Payson; Earl Boone (Debbie) of Plainville; Tom Boone (Nancy) of Quincy; Alvin Boone (Connie) of Plainville, Alan Boone (Sandy) of Maywood, Missouri; Ann Cramsey (Patrick) of Loraine; Kathy Salazar (Jorge) of Washington, Iowa; and David Boone (Aaron) of Payson.  Nineteen grandchildren, Robin Allen (Mike), Trevor Boone, Alex Boone, Audrey Preston (Josh), Jeremy Boone (Ashley), Jessica Genenbacher (Ryan), Justin Boone (Jenna), Jordan Boone (Katie), Kayla Kloppe (Andy), Curtis Boone, Megan Stinnett (Justin), Derek Boone, Garrett Boone, Katelyn Uhlmeyer (Ryan), Caroline Cramsey, John Cramsey, Mateo Salazar, Micah Eshenroder (Jacob), and Nicholas Boone.  Eighteen great-grandchildren, Bentley Allen, Mercedes Boone, Payton Boone, Elliette Boone, Bryce Boone, Breanna Boone, Abigail Genenbacher, Patrick Genenbacher, Samuel Genenbacher, Benjamin Genenbacher, Renley Boone, Boone Kloppe, Lydia Stinnett, Nolan Stinnett, Andrea Uhlmeyer, Eliana Eshenroder and Charlie Boone due very soon in July, also one more coming in December.  One sister, Joan Dietrich, two sisters-in-law, Rosalyn Boone and Elaine Simon, a brother-in-law, Norman Boone and his wife, Nancy.  Numerous nieces and nephews also survive.
Besides her husband, Mrs. Boone was preceded in death by her parents, two sisters, Eleanor Ehrhardt and Mary Ohnemus, four brothers, Joseph, Leo, Edward and Bill Benz, three infant siblings Paul, John and Florena, three sisters-in-law, Nancy Boone, Rosie Benz and Henriette Benz, five brothers-in-law, Roger Ohnemus, Gene Dietrich, Jim Boone, Roger Boone and Loren Simon, and a niece, Betty Lentz.
Funeral services will be held on Saturday, July 9, 2022, at 10:00am at St. Anthony Catholic Church.  Interment will be in St. Anthony Cemetery.  Visitation will be held on Friday, July 8, 2022 from 4:00 to 8:00pm at St. Anthony Catholic Church.  Memorials are preferred in lieu of flowers; memorials may be made to St. Anthony Catholic Church or donor's choice.
Duker and Haugh Funeral Home is in charge of the arrangements.    www.dukerandhaugh.com