Alvera C. Haxel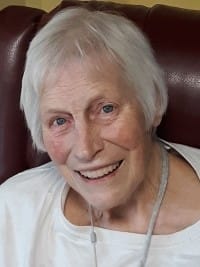 Alvera C. Haxel, age 75, of Quincy, died on Friday, September 24, 2021 in her home. She was born on December 11, 1945 in Quincy, the daughter of Henry and Alice (Grawe) Wand. Alvera married Theodore "Ted" Haxel on April 12, 1969 in St. Anthony of Padua Catholic Church. He preceded her in death on September 8, 2017.
Alvera began working at the W.C.U. right out of high school and continued to work as an insurance underwriter for Western Catholic Union for 50 plus years, retiring at the age of 70. She was also an Avon Lady for 20 years, she loved visiting with people. She was a graduate of St. Anthony Grade School and Notre Dame High School.
She was an active member of St. Anthony of Padua Catholic Church and a devout Catholic. Alvera regularly participated in W.C.U. and Special Olympics events. She had a big heart, and never met a person or an animal that she wouldn't help or take-in. Alvera enjoyed many years of QND Bingo, she loved playing cards, especially Golf (the card game) and Pinochle. She was always planning her garage sale stops and had a gift for collecting knick-knacks.
Her family and grandchildren were her life. Alvera and her brothers and sisters were very close, and a get-together wasn't complete without music and singing.
She is survived by:
SIX CHILDREN: Jennifer (Darin) Huntley; Joseph (Mary Beth) Haxel; Sarah Hinkamper; Gregory (Dana) Haxel; Anna Haxel and Alice Rosa.
GRANDCHILDREN: Benjamin (Shelby) Goodman; Daniel (Brenna) Goodman; Caleb Huntley; Zachary Schraer; Ethan Haxel; Tabitha Haxel; Reagan Hinkamper; Reese Hinkamper; Emma Haxel; and Avery Haxel.
GREAT GRANDSON: Bennett Goodman.
SIBLINGS: Jim (Judy) Wand; Sr. Mary Ruth Wand, SSND; Marcia (Fred) Maranski; Carlene (Steve) Blickhan; Barb Wand; and Larry (Mary) Wand.
Numerous nieces, nephews and other relatives also survive.
Alvera was preceded in death by her parents, husband, infant daughter, Elizabeth and son-in-law, Brett Rosa.
Funeral services will be held on Thursday, September 30, 2021 at 9:45 a.m. in Duker & Haugh Funeral Home with a Mass of Christian Burial at 10:30 a.m. in St. Anthony of Padua Catholic Church. Interment in St. Anthony Cemetery. Visitation will be held on Wednesday evening from 4:00 – 7:00 p.m. in the church. Memorials may be made to Adams County Special Olympics.