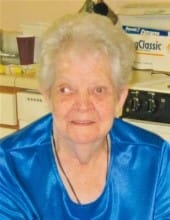 Helen Cooper, 96, of Quincy, passed away at 11:18 AM Thursday, June 18, 2020, at Sunset Home in Quincy, IL.
A private Life Celebration will be held at the O'Donnell-Cookson Life Celebration Home in Quincy.
A Memorial Service will be at 11:00 AM Wednesday, June 24, 2020, at the O'Donnell-Cookson Life Celebration Home in Quincy. Rev. Tom Donovan will officiate. Burial will follow at Calvary Cemetery in Quincy.
Helen was born September 4, 1923, in Quincy, IL to Bernard J. and Anna Steinkamp Dopheide.
Helen is survived by two children, Patricia H. Cooper and Jacqueline A. Schieferdecker; seven grandchildren, Greg Schieferdecker, Bobby Schieferdecker (Angie), Julie Uppinghouse (Randy), Wendy Freiden (Alan), Stephanie Stewart (Randy), Toni Curley, and Kimberly Smith (Jim); 19 great-grandchildren; and 32 great-great-grandchildren.
Helen is preceded in death by her parents; five brothers, Henry, Anthony, William, Albert, and Bernard Dopheide; one sister, Gertrude Carson; one son-in-law, Gary Schieferdecker; and one great-great-grandson, Jaiden Henson.
Professionally, Helen was a machine operator at Brower Manufacturing for 34 years, retiring in 1985.
Helen enjoyed crocheting doll dresses, afghans, and doilies. She had a special love for her poodles, homegrown tomatoes, and fiction and mystery books. If the television was on, Helen was likely watching Twilight Zone or old Westerns like Bonanza, Gunsmoke, The Virginian, or the Rifleman. She also enjoyed all things red, including roses and Cardinals.
She was a Catholic by faith.
Memorial contributions may be made to Sunset Home or the Quincy Humane Society.
Obituary provided by O'Donnel-Cookson Life Celebration Home.