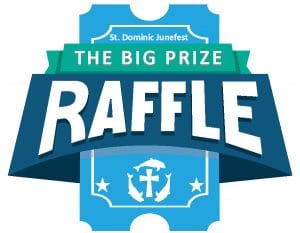 Raffle tickets for the Third Annual (Junefest) Big Prize Raffle are now on sale.  Tickets may be purchased at the Parish Office during business hours, at the Gene Grawe Fund office at St. Peter's Church, and online at www.junefestbigprizeraffle.org.
We were unable to hold the St. Dominic Junefest or St. Anthony Picnic this year because of the health crisis, thus your support of this important project is most needed and appreciated.
We will sell a maximum of 2000 tickets at $50 apiece.  Upon selling at least 1200 tickets, the full prize pool is:
Grand Prize: $25,000
Second Prize: $10,000
Third Prize $5,000
Fourth Prize: $2,500
Fifth Prize:: $1,000
6th – 10th Prize: $250 Gene Grawe Gift Card
11th – 50th Prize: $100 Gene Grawe Gift Card
The winners are responsible for all applicable taxes and withholding.  Official rules are on the www.junefestbigprizeraffle.org website.